Product Description
BZC400CHW truck mounted water well drilling rig
1. BZC400CHW truck mounted drilling rig is a kind of rotary drilling rig,the chassis adopts
SINOTRUK HOWO 6X4 special vehicle, the diesel engine, main transmission system,gear box,
double hydraulic winches,mud pump, rotary table, mast, steel wire feeding system are on the chassis.
2. The chassis diesel engine and drilling diesel engine are separate.The drilling diesel engine
is DONGFENG Cummins 6BTA5.9-C150 112kw water cooled four stroke supercharged intercooled
construction purpose diesel engine and suitable for severe environment
3. It is drilling with mud mainly ,equipped with mud pump BW850/2 horizontal reciprocating double
cylinder double acting piston mud pump.It can do air drilling with air compressor eg. Atlas, Sullair,
Kaishan etc.
4. The main transmission is mechanical. It has hydraulic mast,four hydraulic jacks,two mechanical jacks.
With a generator supplying the lighting at night and welding.
5. The drilling machine has beautiful appearance, big rotary torque and fast penetration. It is suitable
for drilling water conservancy projects, industrial deep water Wells, national defense construction,
hydrological exploration, geothermal mine Wells and other engineering foundation holes. It is well
received by customers at home and abroad.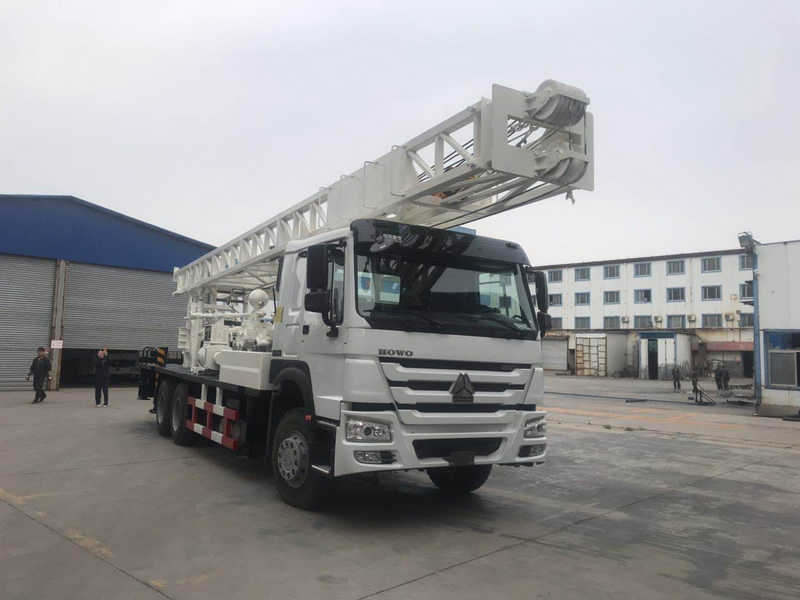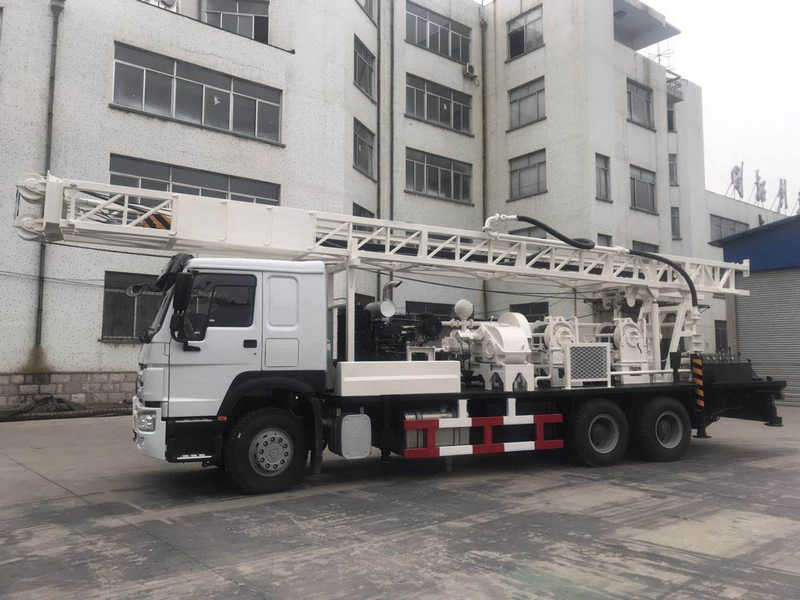 Parameter

Drill depth(m)

400

Open hole diameter(mm)

500

Rotarytable rotate speed(r/min)

96;76;44;24;12rpm(reverse)

Rotarytable rotate torque(kN.m)

4.3;5;8.5;13.3;22.7;40kN

Winch lifting capacity(KN)

40

Swivel load(T)

28

Kelly(mm)

108x108x7500

Drill rod(mm)

¢89×10×6000

Drilling Diesel engine

Cummins 112kW/2200rpm

Mud pump

model:BW850

cylinder(mm):150

stroke(mm):180

Frequency(min-1):82.58

Displacement(L/min):850.600

Pressure(MPa):2.3

power(KW):40(54HP)

Generator

30kw

chassis

HOWO

6×4

Power (KW)

213kw

Rotate speed (r/min)

2200

Transportation size(mm)

12500×2500×4000