Product Description
5 Tons SAM856 Wheel Loader , Loaders(856)

rated load 5000kg
overall weight 17100kg
rated bucket capacity 3m3
maximum tractive force 152KN
rated load 5000kg
overall weight 17100kg
rated bucket capacity 3m3
maximum tractive force 152KN
SINOMICC Wheel Loaders, Loading capacity ranges from 1.6 ton to 6.0 ton including popular models ZL16F,
ZL20F, 836, 856, ZL50G, 966, etc.
We have a yearly production capacity of ten thousand units. The products are popular at home and have
exported to many regions and counties, such as Africa, South America, Middle East and Russia.
The company has powerful technical and manufacturing strength, which has introduced, digested and absorbed
lots of domestic and foreign advanced technology.
We will take the faith of creating value for customers, providing better products and more sincere service to
customers and building a bright future.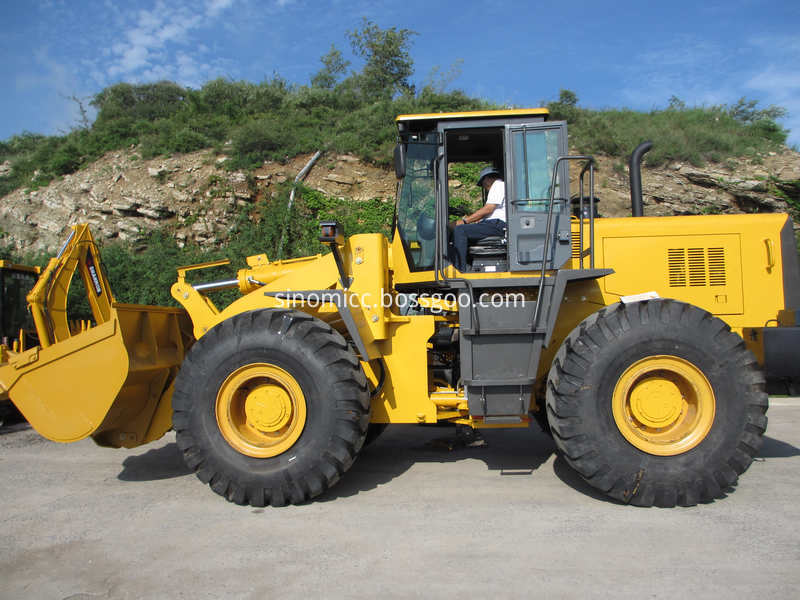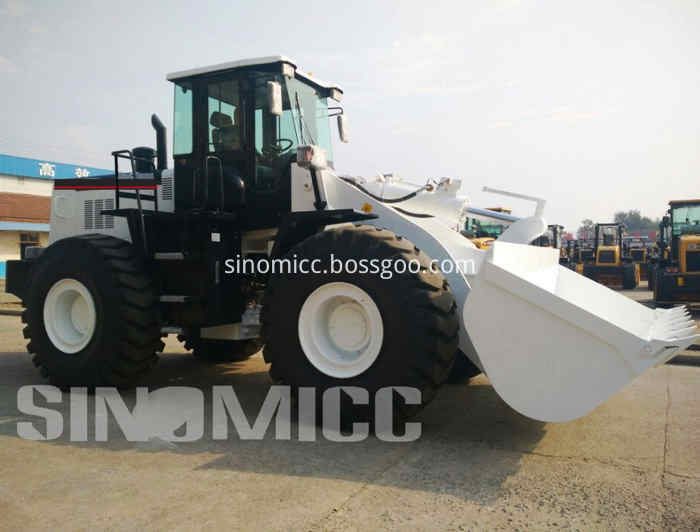 Performance

1
rated load
5000kg
2
overall weight
17100kg
3
rated bucket capacity

3m3

4
maximum tractive force
152KN
5
maximum breakout force
≥170KN
6
maximum grade ability
30℃
7
maximum dump height
3150mm
8
maximum dump reach
1250mm
9
overall dimension (L×W×H)
7920*3050*3400mm
10
minimum turning radius
6640mm

Engine

11
model
Weichai Steyr WD615
12
type

\\\

lnline water cooling dry cylinder injection

13
-×No.of cylinder-bore/stroke
6-126*130mm
14
rated power
162kw--2400r/min
15
maximum torque
860N.m
16
min fuel-consume ratio
≤215g/kw.h

Transmissionsystem

17
torque converter
YJ375
18
gearbox mode
Power shift normallyengaged straight gear
19
gear shift

4,4

4forward shift 4reverse shift

20
maximum speed
38km/h

Driveaxles

21
:main reducing spiral
bevelgear grade 1reduction
22
decelerating mode
planetaryreduction,grade 1
23
wheel base (mm)
3200mm
24
wheel tread
2250mm
25
minimum ground clearance
450mm
Hydraulic system
26
system working pressure
18MPa
27
boom lifting time
5.95±0.2s
28
total time
10.95±0.5s
29
fuel tank capacity
300L
30
functionof leveling automatically
yes

Brake system

31
service brake
air overhydraulic disc brake on 4 wheels
32
parking brake
manual parking brake
Tyre
33
type specification
23.5-25
34
front tyre pressure
0.4Mpa
35
rear tyre pressure
0.35Mpa