Product Description
5 Ton Off Road Forklift CPCY 50
CPCY50 Terrain forklift is a product of combined technology from China and Australia, it is equipped with Cummins 4BT39-C100 engine for reduced noise and emission, this product uses full hydraulic mechanic automatic transmission and steering system for flexible and easy handing. This model has a large hauling capacity from its double-axle six wheel drive for improved safety and stability. Articulated body design reduces turning radius. This model is fitted with Grammer luxurious seat for extra comfort. Movement control stick incorporates German ZF technology.
CPCY50 Terrain forklift is adaptable to various surface conditions, it is suitable to operate on soft soils, grass, terrain, mine sites and many other rugged surfaces. Extensive range of attachments is available for this model to extend its working capacity for heavy duty mining projects.

Introduction
The CPCY50 rough terrain lift truck is an achievement based on Chinese and Australian technologies. Its standard Cummins 4BTA39-C100 engine ensures reduced noise generation and low emission. For flexible and easy handling, the product is equipped with a full hydromechanical transmission, and full hydraulic steering system.
Due to its double-axle six-wheel drive system, this forklift has a large hauling capacity, as well as improved safety and stability. The articulated body design contributes to reduced turning radius. The Glamour luxurious seat ensures great drive comfort. The joystick of the product is designed on the basis of German ZF technology to achieve reliable performance.
Our CPCY50 six-wheel drive lift trucks are is adaptable to various surface conditions. They are ideal for operating on the soft soil, grass land, mine sites, and many other roughed terrains. Additionally, the product is available with a broad range of attachments to extend its working capacity for heavy duty mining projects.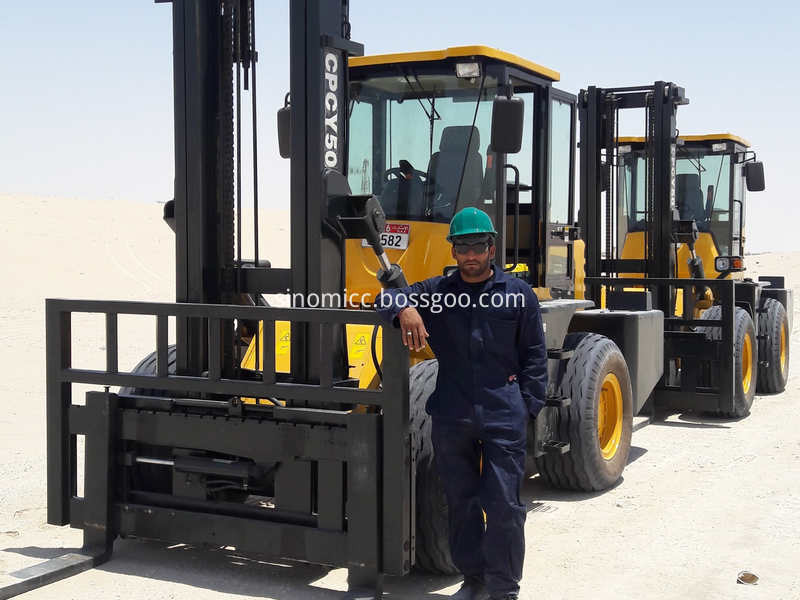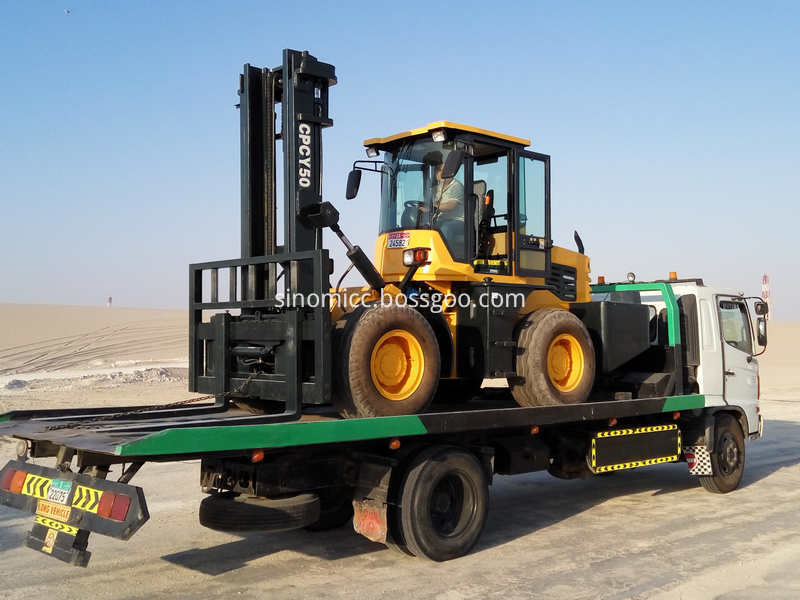 Overview

Model of driving power

Diesel

Rated load

5000kg

Load center distance

500mm

Lifting height

3000mm / 4500mm



Performance


Speed

Running speed (no load)

22Km/h

Lifting speed(full load)

300 mm /s

Max. grade ability

20 °

Dead weight

9500kg



Tires

Tires

Front wheel

11.00-20

Rear wheel

16/70-20

Tread

Front wheel

1575mm

Rear wheel

1545mm

Wheelbase

2185mm

Min ground clearance

285mm






Driving power and transmission

Battery

Voltage

24V




Engine

Model

CUMMINS 4BTA3.9-C100

Place of Origin

Xiangyang Hubei

Output power

74 KW

Rated torque

410

Number of cylinders

4

Cylinder size X trip

n.a

Displacement

n.a

Fuel tank capacity

40L

Transmission

Gear(front and rear)

2/2

Work pressure

16 Mpa
Why choose our off road forklift?
1) The factory is SEM & FOTON brand wheel loader structural parts OEM factory.
2) Professional international sales team, For over 10 years wheel loader and forklift export and internet repair experience to service for global.
3) A well managed quality control system, Every unit forklift with 18 hours hard testing before shipment.
4) We are care for every end user and agent feedback, drive the factory produced forklift a right way.
Q&A:
Q: Are you the forklift factory?
A: Yes, the factory Founded in 1996 year.
Q: What machine you produce?
A: We produce all type of wheel loader from 0.6 Ton to 5 Tons.
The off road forklifts 3 Tons to 10 Tons.
All of machines was CE approved.
Q: Can you supply the machine with your customer requirement?
A: We have strong technology team, are able to do adjustment design for customers according to users' most requirements.
Q: Which brand engine do you have?
A: China engine: Changchai brand, Xinchai brand, Weichai brand, JAC brand.
JV-branded engine: Dongfeng CUMMINS, Weichai DEUTZ, Wuxi Perkins, Jiangxi ISUZU.
Import engine: Indian or Japan CUMMINS, Japan YAMMAR, Japan KUBOTA.